How to choose the perfect web designer the first time around
Have you ever worked with a web designer that wasn't quite what you were looking for? A bit like wearing very uncomfortable shoes, isn't it?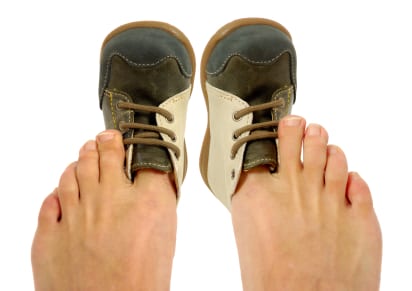 In a sea of web designers, it can be like searching blindly in a fog for the perfect creative collaborator.
Today I'm going to share some tips to help you evaluate the web designers on your short list, so that you can quickly discern between the right fit and the wrong fit for you.
First question to ask yourself: Intuitive web design or traditional web design?
A little caveat before we begin here: intuitive web design is not really a thing — not yet anyway — but it is for a designer like me. Intuitive web design is exactly how it sounds. It is design that isn't "figured out" based on mental strategies. Rather, it is sourced and downloaded and inspired from your soul and what it is calling you to do.
Your first decision then, ought to be about this question: do you want a design that is based only on what looks good and what is fashionable and the current trend? Or, do you crave a design that goes deeper and reflects and mirrors who you are on the level of your soul? Do you want a design that looks similar to everyone else's, or would it serve you better to have a website that is completely unique to your story, purpose and business direction?
Second question: A designer, or a designer/business executive?
There are plenty of talented designers who will deliver exactly what you are asking for — but the trouble happens when you don't even really know what you are needing.
What do I mean by that?
For example, a lot of my clients come to me with a hazy sense of the kind of work they want to do. Where they're unclear is how that is structured as a business and beyond that, how all of this is expressed in a website. I always tell people, it's great to have an amazing website, but is there a solid business model behind the beautiful image? Is it just a façade or can you actually make money with what was created?
Designers are tasked to deliver what you ask them to do, but when you are unclear about what your business is, much less what it looks like, you're better off working with a designer who understands sales and business. By working with someone like this, you're getting the best of all worlds.
Working with a designer/business executive means that creating your website is creating your business — simultaneously. During the design process, you will structure your business, learn to monetize your ideas, products and services, come up with the right look and branding sourced from your soul (not figured out mentally), and organize your website so that it is optimized for sales.
Third and final question: Do I trust this person?
This is perhaps the biggest question that gets overlooked or pushed aside, especially when we want to work with someone who promises a lot or has clients that you really look up to.
What it really comes to down to though, is whether or not you trust this person, 100 percent.
Creating your website is a fun journey, but it's also a time of vulnerability. You're allowing someone into sacred territory of getting to know you intimately and then as your designer, expressing your vision as you, on your behalf. Choosing someone you trust means being 100 percent comfortable with their level of integrity, whether or not they understand you beyond the surface level, whether you like this person, whether you feel taken care of and the most important sign: whether or not you feel safe letting things go to them.
Building trust takes a bit of time, but you can also sense this at the very beginning of the relationship, even before you decide to work with that person. It is a heart and gut–level knowing, and you should also feel a spark of creative energy between you. That is how you know.
I hope this helps you find your new designer to trailblaze your entrepreneurial path!
Hi, I'm Ana Coeur

I teach entrepreneurs how to create their business straight from their soul. I offer a complete Intuitive Business Suite to help you create, design, write and sell all from your intuition. Here's the services you can take advantage of to empower your business: Intuitive Web & Brand Design, Intuitive Copywriting and Intuitive Selling. If there's anything I can help you with, I would love to hear about it! You may email me at ana

intuitivepicture.com
Schedule a free assessment of your website and business
Show me your website and I'll share with you what I sense and what we can accomplish together. Here's how to book your free assessment: