The Intuitive Sales Call & Intuitive One–On–One Selling
Here's a unique opportunity for you to practice how to sell on the phone in live mock sales calls with me.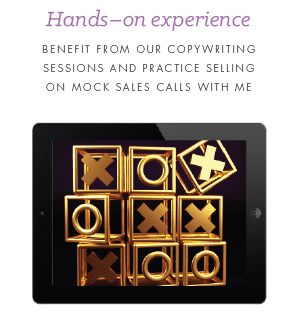 The Intuitive Sales Call is something I created to help heart–centered entrepreneurs sell themselves authentically, without needing to be sleazy, slimy, slick and manipulative.
The principle behind the Intuitive Sales Call is that I train you to tune into your inner ear — the intuitive ability to hear between the words spoken and diagnose the energy of your buyer, so that it helps you know what the other person is thinking (and not saying), and how to lead them to purchase. It is done from heart, love, compassion, giving, integrity, trust and respect.
Sales, as you'll learn here, is not just a transaction between two parties. It is actually complex communication system. This communication system is designed for others to recognize your value and to invest in your value, for an outcome that they desire.
Here, I teach you how to convert those who are on the fence to buying into your products and your vision. We'll work extensively on how to close the sale.
Everyone's style of selling is different, so we'll also hone in on your unique ability to communicate with people and bring that to the forefront. The result is that when you sell, you will feel authentic, aligned with integrity and comfortable in your skin, instead of feeling like you need to put on a fake face in order to get what you need.
Selling one–on–one requires that you carry deep conviction about yourself and also requires high emotional intelligence, meaning for you to stay in your emotional center. Here, you will learn to fly by your intuitive instincts and allow your heart to guide you to the highest possible outcome for all involved.
At the core of selling intuitively is about attunement, where you harmonize your sales dialogue to become at one with the sales situation at hand.